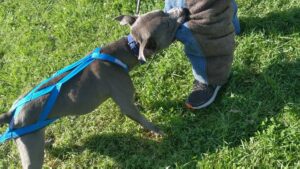 Building your dog's confidence from the ground up is no easy task. Together, we will create clarity with their job, build impressive bite control, and install a clear on and off switch, all while developing your handling skills essential to working a powerful canine. You will be exposed to real life or sport scenarios and learn how to engage with your dog in a safe manner with hands-on decoy (helper) interactions designed to build you and your dog's confidence.
Covered in this course:
Every dog entering sport or protection has a wide range of where they might be starting.  Each dog will be worked depending on the intent and the needs of the team at hand. It is up to the handler to accurately relay any previous exposure to sport or protection, especially in types of bite training already exposed.  Each team will be evaluated for intent in training and must maintain a high level of integrity, discipline, and commitment to the safety of the dog, the decoy, and you as the handler or risk immediate nonrefundable dismissal from any and all training. Your team is required to have passed advanced obedience or equivalent.

Required materials:
Advanced Obedience

Apropriate level training collar

Flat collar

E-collar

Muzzle

Harness

15 ft leash

5 ft leash

Pull tab

Clip-on training pouch

Toy (ball / tug)

Crate

Appropriate shoes/clothing

Water bowl

Poop bags
Recommended materials
Place board

Place marker

Variety of appropriate level toys

String to attach to toys