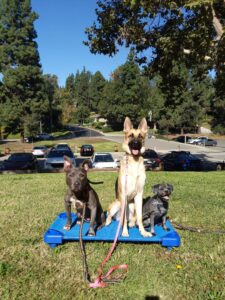 You are never too late to learn a lifelong set of communication skills between you and your dog. In this course, we teach you the basics of how a dog learns and how to motivate your dog in completing behaviors through balanced, effective and clear communication. 
Covered in this course:
You and your dog will learn to complete skills such as walking on leash, sit, down, come and place with some distractions in just six one-hour classes. In addition to working with your dog, you will be introduced to essential leash skills, vocabulary and a fun, reliable method of working with your dog.
You will be provided with a slip lead training collar, homework materials, and a certificate of completion on the final day of training.  All other recommended training materials can be purchased at owner's discretion and based on an individual's recommendations.

Recommended Tools:
5-10 Ft non retractable leash with a clip at the end

Elevated place board

Clip-on training pouch for food

Poop bags

Water Bowl (with water)

Appropriate level training collar discussed in evaluation