We are so excited to be serving dogs and owners of Colorado Springs!
Owner and founder of Train Your Human Dog Training, Kelly Huddleston began this journey into training dogs when he rescued his first personal dog, Titan Rex. It was clear that Titan would benefit from training, but first Kelly had to get some help of his own and began training with K9 Logic in Los Angeles, CA. Over the years, with an amazing coach and with this new opportunity available, Kelly learned from as many people, asked as many questions as he could, and experimented endlessly to learn the most effective way a dog learns.  While working at K9 Logic, Kelly had an amazing opportunity to service hundreds of dogs and owners with an incredibly broad spectrum of training requests from basic pet obedience and service dog training to rescue and rehabilitation.
Rescue and rehabilitation quickly became a passion, and Kelly established partnerships with several small local rescue organizations throughout Orange County and helped train, rehabilitate and find forever homes for over a dozen rescue pups. In this process, the most important step was training the new owners how to communicate with their new dogs and be able to use all of the amazing obedience that this rescue had just learned. Most of these new homes were actually first-time dog owners or this was their first rescue experience. So far, and with fingers crossed, every rescue that came for a board and train has found and remained with their forever family. At Train Your Human Dog Training, we do not believe that the dog is the problem. Better put, your dog is having a problem and it most likely is due to a lack of communication. We believe that every dog has purpose and every dog should succeed if given the right opportunity.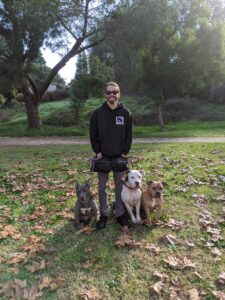 Today rescue pup Titan Rex is fully rehabilitated and plays a vital role in Train Your Human Dog Training. He consistently participates in lessons acting as distraction, demonstration, and even just to help people change the way they see a pitbull. Titan has been an amazing dog throughout the years. While he has been so patient and understanding through the years of learning, he has especially been amazing with the endless testing of new ideas on him. Titan has become an exceptionally obedient dog, an amazing pet and a best friend. Together Titan and Kelly are now training to compete in upcoming French Ring Trial and are continuing to help local rescues, dogs and owners of Colorado and Colorado Springs.