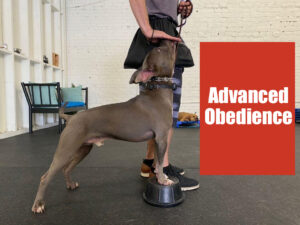 This class is exactly as it sounds. Dedicated owners and trainers will work to achieve a high level of focus, obedience, and confidence in their training and behaviors in moderate to high levels of distraction.  With our advanced package, you and your dog will be ready to take on the world.
Covered in this course:
In addition to teaching you how to troubleshoot training and to motivate your dog to excel with their behaviors, this class is heavily weighted in instructing you as the owner/trainer how to achieve a lifetime of future goals and endeavors with your dog.  In fifteen one-hour lessons, you will work to gain the skills to sit, down, heel, place and come all off leash.  Your team will have weekly homework and extra credit activities depending on the speed your team is able to progress. You and your dog will work to achieve a high level of communication on and off leash and in heavily distracting environments. In addition, your team will gain the skills necessary to pass the "Canine Good Citizen" test, an AKC accredited evaluation test.
You will be provided with a slip lead training collar, homework materials, and a certificate of completion on the final day of training.  All other recommended training materials can be purchased at owner discretion and based on an individual's recommendations.

Required Training Materials:
5-10 Ft leash with a clip at the end (nonretractable)

20 Ft long line with clip at the end

Mini educator E-collar

Elevated place board

Marker board

Clip-on training pouch for food (or equivalent)

Kibble/your dog's food

Appropriate level Training Collar recommended by your trainer

Poop bags
Recommended Training Materials:
Water Bowl (with water)

Appropriate shoes/clothes for active training

Water bottle

Dog toy

Additional Training Treats